The date was Saturday 25th January 2020.
The venue was Coatbridge High School.
The event was the Scottish Cup match between the home side Su Ragazzi and the visitors Volleyball Aberdeen.
The home side emerged as winners in this fabulous match, but not before Ross Allan's team played a brand of volleyball which belied their position in the Volleyball League. The team from the North fought for every point and made the home team go right to their performance edge.
This was a fantastic match with a whole series of ferocious exchanges.
In the first set, the visitors demonstrated that they had prepared for this match by establishing a game plan that made it really difficult for the Ragazzi Middle Hitters to function. So we changed our offence and had setter Nicole Ramage go to 'plan B'. The change of tactics worked and the Suettes won the set 25-15.
Set 2 they stepped up their competitive level, changed their setter and matched the home team point for point until the middle of the set. Libero Laura McReady was successfully engaged in a personal battle with their outside hitters, playing some incredible power defence, and this swung the play in the home team's favour, and we took the set 25-18.
Set 3 we mounted an unstoppable run of serves and blew the Aberdeen passing unit away, winning the set 25-7. The scoreline says we were dominant. It says the Aberdeen side were not in the set, but they were. They kept their spirits high, they covered the court with some fantastic defence, they served their own howitzers, but they could not stop the Fabulous Suettes from claiming the points, the set, and the match 3 sets to zero.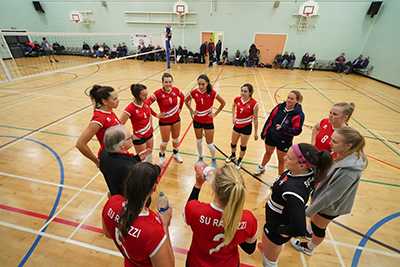 This was a Scottish Cup match, so the prize was a chance to play in the ¼ final, probably against City of Edinburgh. Before the match against Aberdeen we talked of the need to work hard at winning points. We talked about getting the tactics right. We talked about all of the players being on the same page, and we talked about the opportunity to progress to the next round. We did not talk about just how tough the troops from Aberdeen would make things, or how fierce the competition would be, but we welcomed the chance to play with excellence. We revelled in the ferocity of the exchanges. We thrived on the quality of the exchanges, and we emerged from the encounter as winners!
Well done to Ross and his players for contributing to the success of this fantastic match, and very well done to the Fabulous Suettes. Roll on next Saturday!