SEASON 22-23 INCOMING
Su Ragazzi Volleyball Club is proud and excited to be back for another competitive and high performance season. The games schedule has been released from the Scottish Volleyball Association and we are looking forward to beginning our preseason preparations!
For the first time, Su Ragazzi are holding try-outs for players wishing to train and play for the Senior National League / Cup teams, for both men and women. There are three teams: Su Ragazzi women, City Of Glasgow Ragazzi (men) and Forza Ragazzi (men).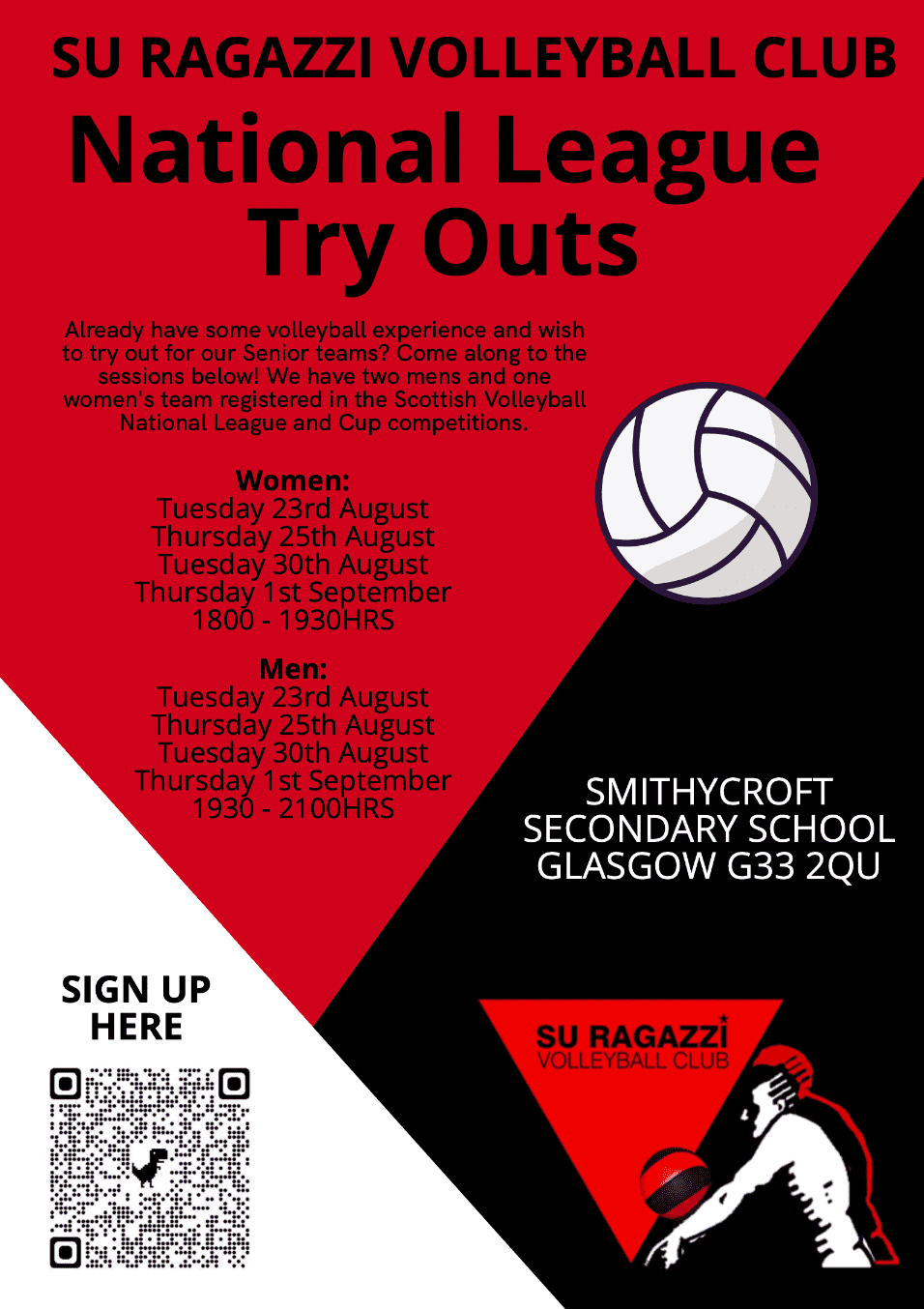 NATIONAL LEAGUE SENIOR SESSION TRYOUTS
Dates: Tuesday and Thursday, 23rd, 25th, 30th August and 1st September
Venue: Smithycroft Secondary School (map / directions https://www.google.com/maps?client=safari&rls=en&q=smithycroft+secondary+school&oe=UTF-8&um=1&ie=UTF-8&sa=X&ved=2ahUKEwju3tfxkdr5AhWBlFwKHUMnCXkQ_AUoAnoECAIQBA )
Time: 6-730pm for women, 730 - 9pm for men's teams
Cost: Yearly fees TBC but usually around £350 for the season including registration to SVA
The coach for the men's teams is Jas Orr and the women's team are currently working with Darren Martin.
All teams are entered in the National League and Cup competitions which involve playing most Saturdays, home and away, between September/October and May.
Any players which are not selected for the teams will be automatically invited to the Development sessions which run every Monday night. Here players can improve their skills and knowledge of the game, preparing them to move into the senior teams at a later date. https://www.suragazzi.com/Developmentsessions22-23