Last Saturday 23rd November, the Suettes travelled North to play the Aberdeen outfit and came away with a 3 sets to 1 win. Saturday 30th November, the Aberdeen side travelled South to play the Fabulous Suettes and suffered a 3 sets to zero loss – some days it is tough to play this game. The match on the 23rd was in the league, the match on the 30th was the semi-final of the John Syer Grand Prix event, so could there be an upset?
The Glasgow side dominated throughout the match. It didn't matter what the Aberdeen side threw at the Suettes, it simply was not enough.
The Aberdeen side's left side attack is as good as anyone's in the Premier Division, and their outside hitters were prepared to work really hard, but they had to deal with the home team's block, and if they got past that, they had to contend with Laura McReady, and if they got past Laura the ball was out!
Meanwhile Claire and Barbera on the home team's left side were demonstrating how to mix power and tactics to achieve success – and they had a lot of success. Their winning efforts were supported by the quality of the setting from Nicole. She quickly established that all of her hitters were on-form today, so she spread the ball about and created lots of problems for the girls from the North. Carly had another great game, and Sam scored consistently, while Maria and Kirsty did some of the not-so-glamorous leg work to make sure the momentum stayed with the home side.
Ross Allan's side established leads in each of the three sets, but could never hang onto them... the Suettes had too much spirit, too many shots, too much power, too much desire for them to be beaten and they emerged from the encounter with their 100% record for the season intact. The numbers were Su Ragazzi won 3-0 with set scores of 26-24, 25-13, 25-22.
Next Saturday the girls host City of Edinburgh in what should be another jaw-dropping spectacle. The gym will be jam-packed with current and former Su Ragazzi superstars, including Fred Chao who is making a flying visit to Scotland to take in the games. Why not come along and cheer for the girls – you will be more than welcome.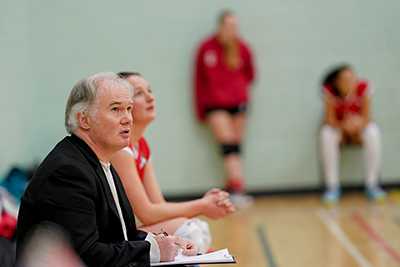 See you all on December 7th.