The first games of November have come around - and 2 out of 3 Su Ragazzi teams were triumphant! Meatloaf thought 2 out of 3 wasn't bad...and in this situation we would be inclined to agree.
The Forza Ragazzi team are in a building phase with a mixture of experienced and new players, and youth is on the side of all players. While retaining a few core players each week, Forza have been drawing on new registrations - this week calling upon Santi and Michael. With even some of the core players competing out of usual position, the Forza side was not at its strongest and a more stable and composed Edinburgh Jets side was able to capitalise on our weaknesses. Forza competed and fought for every point in a closely contested match, and new players Santi and Michael produced fantastic performances for their first game, but lost 0-3 to the home side.
The first game in Coatbridge High School was City of Glasgow Ragazzi v Volleyball Aberdeen Vortex. The long drive to or from Aberdeen is always a trying additional factor when these sides compete, but the Vortex side did not show signs of heavy legs! After taking the lead when substitute Michele was able to open up additional attacking options, Ragazzi were unable to continue the attacking pressure and lost the first set. The next 3 sets went Ragazzi's way with some tough serving, powerful attacks and strong defence - having to work harder than usual with the absence of injured libero Stuart. Happy with the 3 points and a 3-1 victory.
Finally we come to the Suettes. The absence of 2 regular starts Laura and Kirsty went almost unnoticed as the team continued their unbeaten, dominant sweep through the SVL Premier division. New coach Darren Martin is making his mark on the team, with a strong focus on perfecting all aspects of our game and recently improving our blocking performance. After a tight first set 25-22, the Suettes maintained the pressure in attack - with notable mentions for Tya playing outside instead of her usual middle, and Maria managing the middle position with confidence and energy. Unable to find ways to score past the significant impact of the Su block and defence, the Suettes pressed the victory in style winning 25-10 and 25-18. Another 3-0 win and only 1 set dropped since the start of the League and Cup competitions.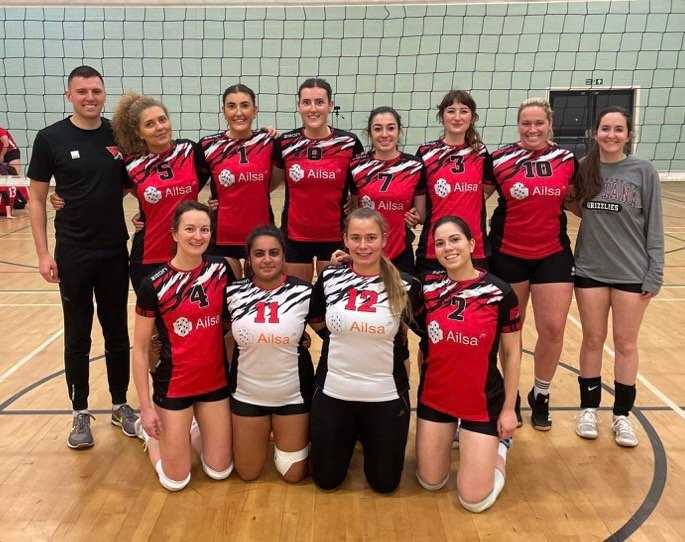 .
UPCOMING FIXTURES